How To Wear Silk Scarves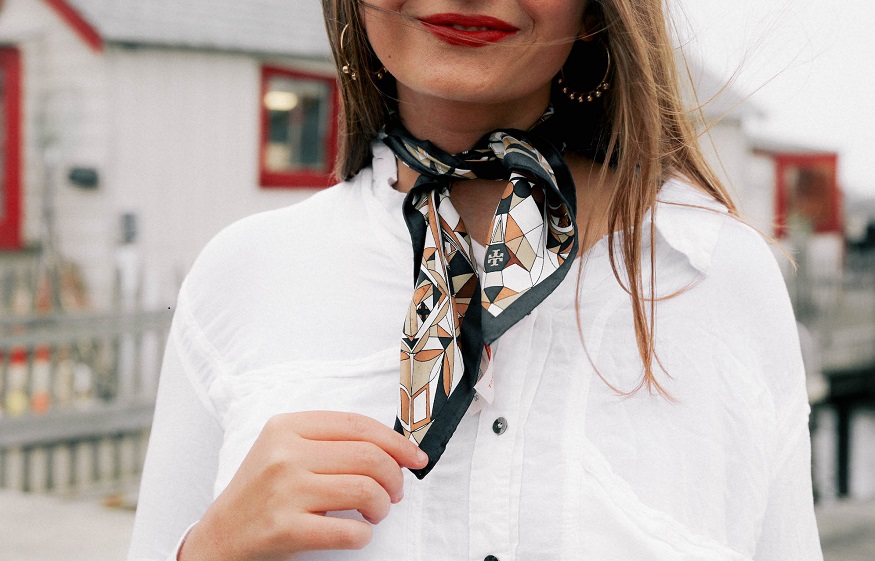 If you've popped into a store lately, you might have noticed the encyclopaedic range of accessory options that are currently available. While hats, belts, and gloves are enjoying their moment in the shopping spotlight, we'd like to turn your attention to a classic adornment—the silk scarf. Unlike the lightweight-scarf-as-a-sweater look that has been enjoying a certain popularity, the slim and silky scarf has a storied past. Associated with style icons like Grace Kelly and Jackie Kennedy, this style of neckwear used to confer a certain formality upon the wearer. As seen in today's above images, that prim and proper association is no more!
This accessory trend can be easily incorporated by anyone, regardless of age or personal style. Vanessa Hudgens and Sienna Miller have both recently been spotted wearing silky scarves secured with a simple knot – the latter sporting a lovely pair of Oliver Peoples sunglasses as well! This slight embellishment pulls their casual outfits together and infuses them with a certain jaunty spirit. Kylie Minogue and Sharon Stone opted for more involved wrappings and showed off their neck-wares by choosing simple, dark tops. The grand scarf standard is Hermes, naturellment, the maker of many lovely pieces, like the hand-rolled Silk Twill Pleated Scarf. ($355, hermes.com) We also suggest downloading the Hermes Handbook (called "Playtime With Your Scarf") from their website. It illustrates the zillions of ways to tie your scarf in an amusing and easy-to-follow instructions.
Read more: Discover the Biggest 2020 Shoe Trends at Victoriabarbara.com
While Hermes scarves never lose their value, if you'd rather dip into this trend, try J. Crew for their wonderful, affordable scarves. Right now their Large Printed-Silk Twill Scarf in Roasted Pumpkin (with a cool, autumnal design) or Mahogany (in dark neutrals) are both smart options. ($55 each, jcrew.com) There are scores of gorgeous scarves at Coach as well. Check out their Ergo Patchwork Scarf; it features a cheerful, abstract pattern on imported silk. ($78, coach.com) If you find scarves fundamentally too preppy, Vera's Leopard Crepe de Chine in turquoise/black or black/white might change your mind. ($62, ronherman.com) Finally, Topshop is offering a skinny version of this look via their Cubic Print Silk Scarf. ($20, topshop.com)